Disney's The Descendants is a fun new movie featuring the descendants of storybook land's most evil villains. Dressing up as Mal, Maleficent's daughter and Evie, Evil Queen's daughter who "are at their best when they are doing their worst" will be popular costume choices for tweens and teens this Halloween.
Kids can be rotten to the core with this wicked selection of Disney Descendants Costumes And Accessories. Here you will find a selection of costumes, tutu skirts and dresses, wigs, tights, boots, gloves, jewelry and hair bows to choose from.
Disney Descendants Costumes
Does your tween like Mal's devilish style of fashion? Just like her mom, her signature color is purple, though she incorporates splashes of pink and green into her outfits for a bolder and more fun look. Here are a number of Disney Descendants Mal Costumes featured below that your daughter could choose from including Mal's Coronation costume dress she wore to Ben's coronation.
 Mal Isle Of The Lost Classic Costume

 Mal Isle Of The Lost Deluxe Costume

 Disney Descendants Exclusive Mal Costume

 Descendants Mal Jacket

 Mal Coronation Deluxe Costume

 Disney Descendants Mal Costume

---
 Disney Descendants Evie Isle Of The Lost Costume

If your tween is drawn to the charming and vain character of Evie, the daughter of Evil Queen, here are a few Disney Descendants Evie Costumes to chose from.
Her signature color is deep blue paired with black. She is always wearing her tiara in her blue tinted hair and carrying her magic hand mirror. Her biggest fear is the magic mirror telling her she is not the fairest of them all.
Featured to the left and below are a couple costumes of the outfits she wore in the movie including the beautiful coronation dress she wore to Ben's coronation.
 Disney Descendants Evie Isle Of The Lost Costume

 Disney Store Descendants Evie Costume for Girls

 Disney Descendants Evie Coronation Deluxe Costume

---
Mal and Evie are not the only characters that are popular costume choices for kids. Your child can dress up as one of the other characters of the movie with one of these other Disney Descendants costumes.
Your daughter can choose to dress up as Audrey, the daughter of Aurora or Lonnie, the daughter of Mulan, two of the girls from the Auradon Prep School. Even mom and dad can get in on the wicked fun and dress up as one of the evil villain parents with one of these Maleficent, Cruella D'Evil, Jafar or Evil Queen costumes for adults.
Currently, there are no boy costumes available for Carlos, the son of Cruella D'Evil or Jay, the son of Jafar, or Ben, the son of Belle, but given the popularity of the movie and books, I sure hope some are in the works for the future.
 Descendants Audrey Coronation Deluxe Costume

 Lonnie Coronation Deluxe Costume

 Descendants Maleficent Deluxe Adult Costume

 Evil Queen Deluxe Adult Costume

 Cruella D'Evil Adult Costume

 Aladdin Jafar Villain Cosplay Costume

---
 Disney's Descendants Mal Leather Jacket

Wow! This Disney Descendants Inspired Mal Jacket is the perfect luxury gift for the most loyal Descendants Isle Of The Lost fan. It is out of the league for most people, especially as a kid's costume, but this luxury Mal leather jacket is perfect for cosplay or for someone who is a serious collector.
This replica jacket is made from soft lambskin and lined with silk fabrics. The seamstress uses the same zippers and studs as the jacket Mal wears in the movie.
These jackets are custom made to your size specifications and you have the option of choosing between real leather or pleather.
Disney Descendants Tutus
If you are wanting a more unique or original costume, these Disney Descendants Inspired Tutu Dresses And Tutu Skirts are perfect for costume parties, birthday parties and photo shoots. These are custom made-for-you costumes that can be purchased on Etsy from home based artisans.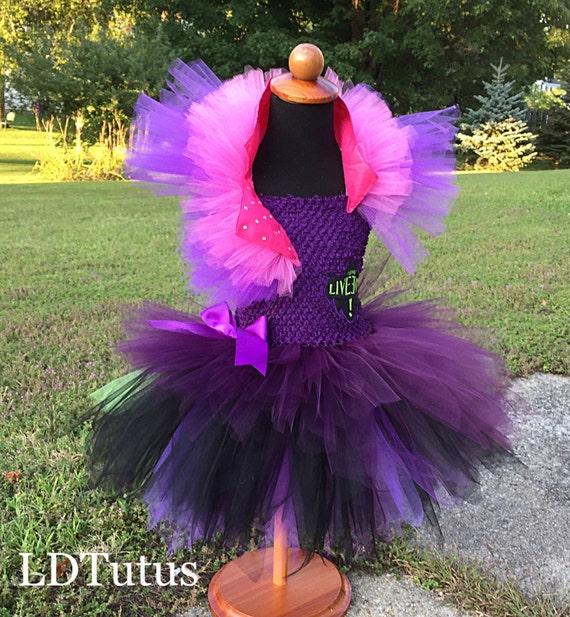 Disney Descendants Mal Inspired Tutu Costume Dress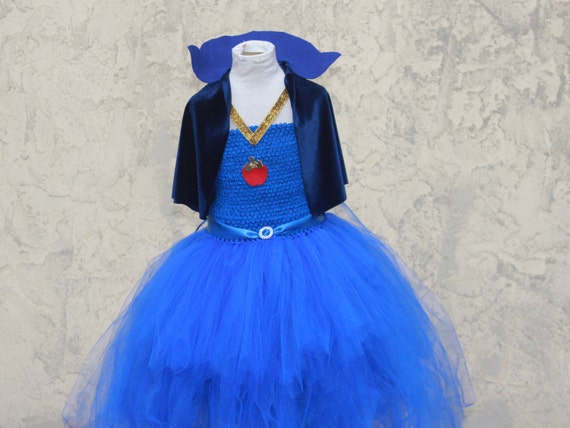 Disney Descendants Evie Inspired Tutu Dress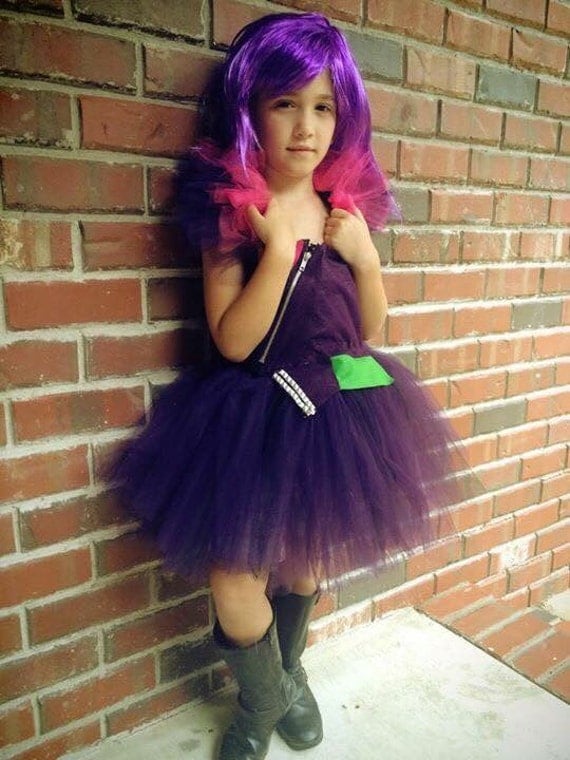 Disney Descendants Mal Tutu Dress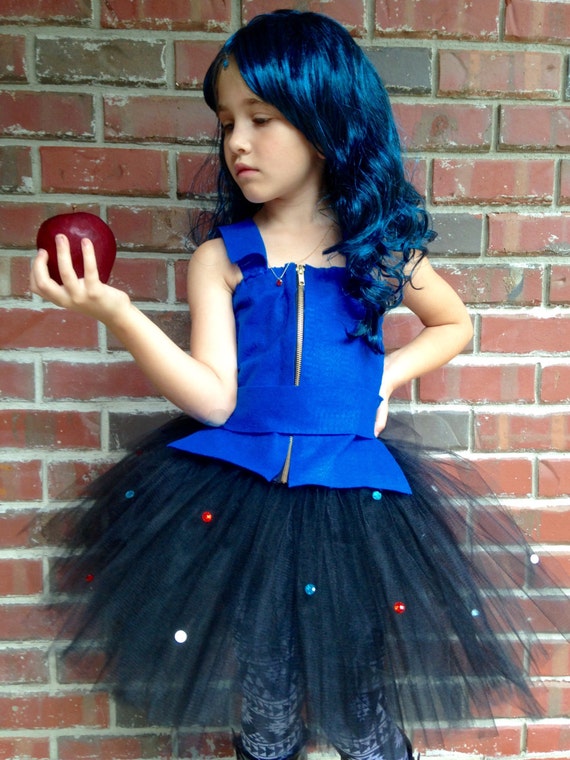 Disney Descendants Evie Tutu Dress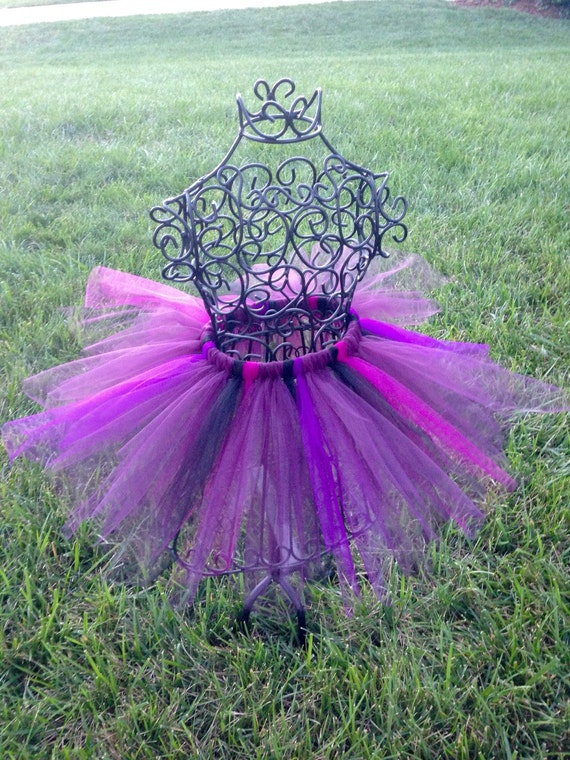 Disney Descendants Wicked Mal Tutu Skirt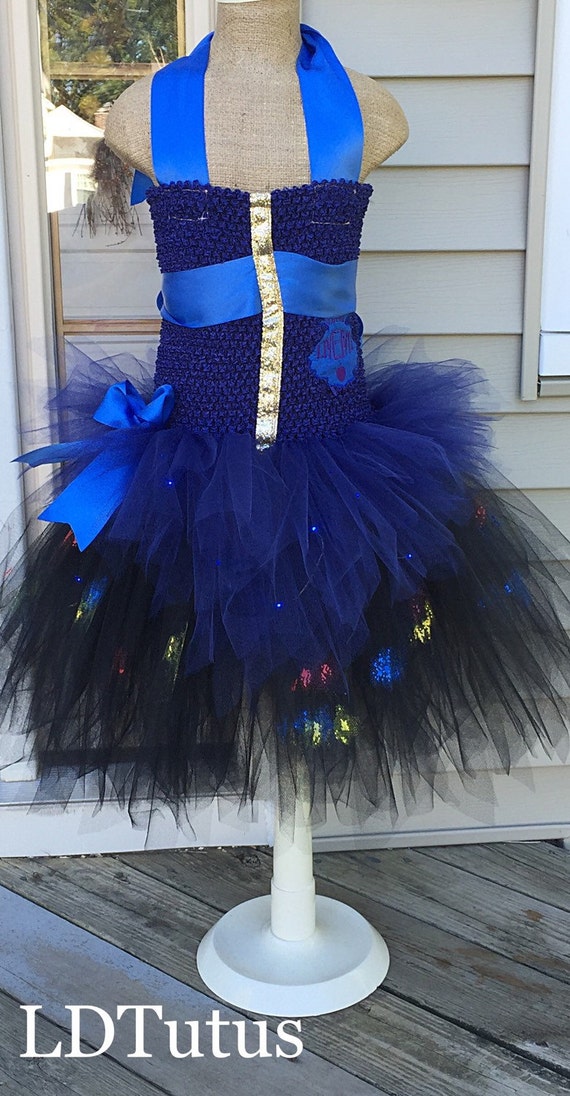 Disney Descendants Evie Inspired Tutu Costume Dress With LED lights

&
Disney Descendants Accessories
Every costume needs to be accessorized! Here are some Disney Descendants Costume Accessories to go along with the costumes above or you could use these pieces to make your own diy Descendants costume.
Evie and Mal are well known for their colorful hair. You will need a Mal or Evie wig to complete the costume. Or you could add streaks to your hair using hair chalk or clip-in hair blue or purple extensions.  I can see many young girls wanting to dress up like Evie or Mal just for the opportunity to sport colorful hair!
 Disney Descendants Mal Wig

 Disney Descendants Evie Wig

I have included an inexpensive red heart necklace similar to the one Evie wore in the movie, but it is not the official Disney Descendants necklace. If you want the original, be prepared to pay an extra 40 dollars which I think would be more appropriate as a gift rather than for a costume.
Evie is never without her tiara. You can buy a tiara separately or in the accessories pack. You can also pick up a pair of the tights that are part of Evie's attire and the black, combat boots all the descendants wore. There are two style of gloves available at the link below; one set for Evie and one set for Mal. Mix and match the accessories to create the perfect Mal or Evie costume.
 14k Gold Plated Crystal Heart Shape Pendant Necklace

 Disney Descendants Evie Tiara Crown

 Disney Descendants Charms & Accessories Collection

 Disney Descendants Evie Costume Tights

 Disney Descendants Costume Gloves

 Girls Lace Up Combat Boot

Here is a collection of handmade Disney Descendants Hair Bows that can be used to accessorize a costume, tutu dress or just because for little girls who like to wear fancy hair bows. These Mal and Evie hair bows are available online from Etsy.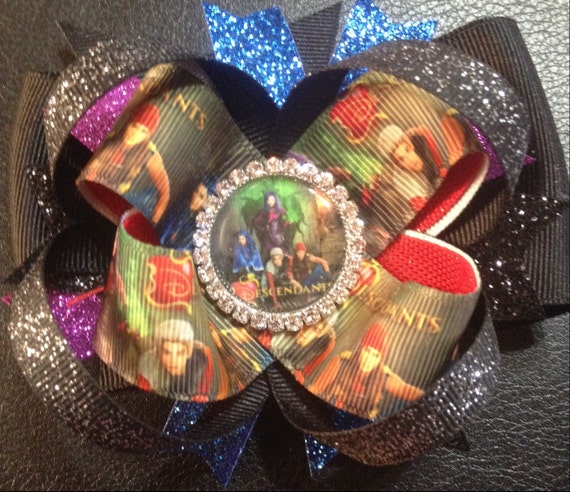 Disney Descendants Boutique Hair Bow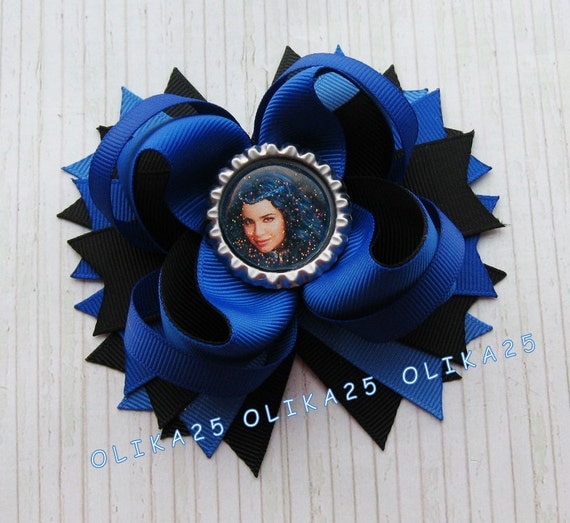 Disney Descendants Evie Inspired Stacked Hair Bow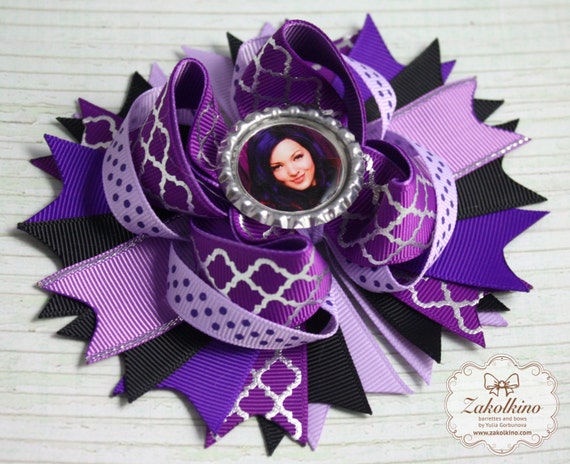 Disney Descendants Mal Inspired Stacked Hair Bow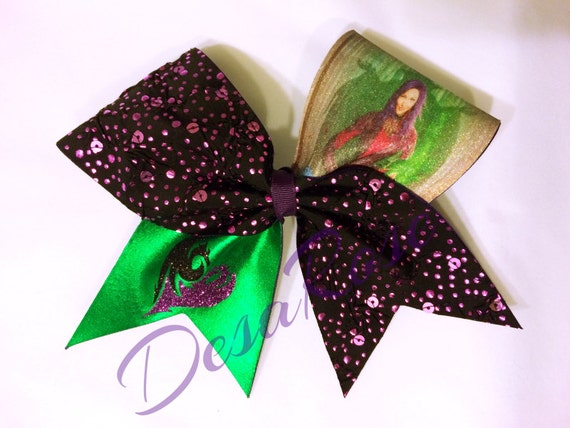 Disney Descendants Mal Inspired Hair Bow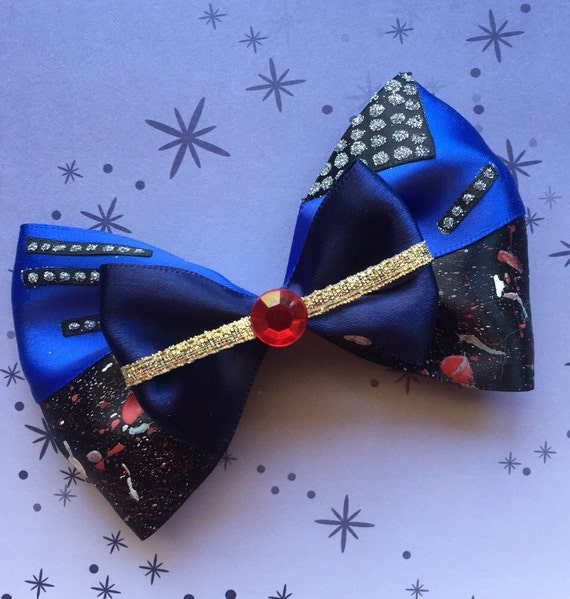 Disney Descendants Evie Inspired Hair Bow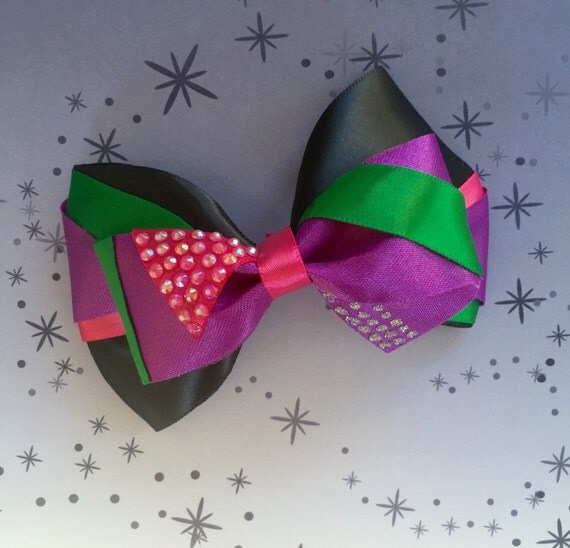 Disney Descendants Mal Inspired Hair Bow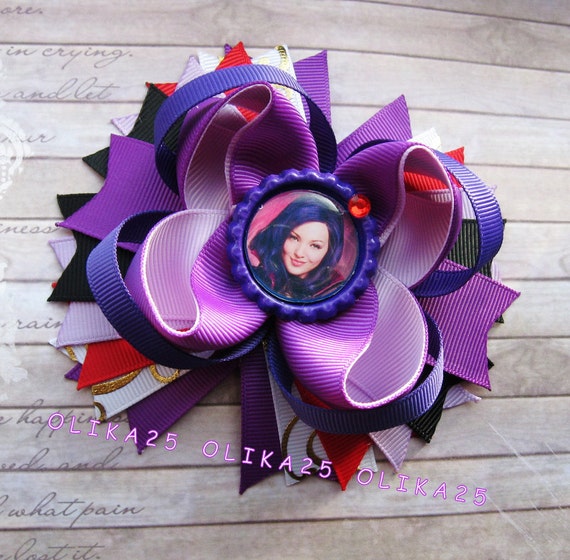 Disney Descendants Mal Hair Bow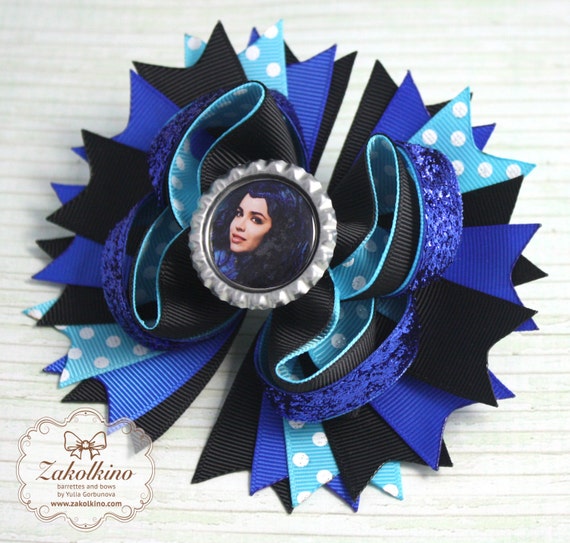 Disney Descendants Evie Hair Bow

&
Thank you for visiting. I hope you found this collection of Disney Descendants costumes and accessories helpful!
More Disney Descendant Articles You May Like!
 Disney Descendants Crafts And Recipes
 Disney Descendants Birthday Party Invitations
Follow Us On Pinterest For More Disney Descendants Inspiration
Follow Just For Tween And Teen Girls's board Disney Descendants on Pinterest.