Kid And Parent Approved Halloween Costumes Tween Girls Will Love To Wear
Are you dreading shopping for a Halloween costume for a tween girl this year? From the skimpy outfits to the over-sexualized costumes heavily marketed towards young girls found in department and costume stores everywhere, it can be very difficult and frustrating trying to find a costume that both you and your tween can agree on that is neither too revealing nor too babyish.
To help you out, I put together a collection of Halloween costumes tween girls and parents can both be happy with.
Tween girls are fiercely independent, sweet, kind and helpful, but they can also be stubborn, petulant, condescending and over-dramatic which can make the whole shopping experience with them that more challenging and exhausting.
I have included some tips based on my own personal experiences with my pre-teen daughter on how to help guide your own girls through the process of choosing a costume that is suitable for class parties, trick-or-treating or even a first boy-girl dance (yikes!) that both she and you are comfortable with, hopefully surviving without too much drama and your sanity still intact!
Below the tips, you will find a selection of tween Halloween costumes new for 2018, as well as a few bestselling costumes that are popular with 8 to 12-year-old girls year after year.
Tips For Choosing The Perfect Halloween Costume For A Tween Girl That She (And Mom & Dad) Will Love!
Shopping for a Halloween costume that your tween girl and you can agree on can be a tricky situation to navigate. I thought I would share a few tips that I have used the past few years with my own tween daughter.
Preteen girls change their minds a lot! Start looking early to give her plenty of opportunities to decide on what she would like to be for Halloween. Group or theme costumes are popular with tweens and teens but do require a little advance planning and coordination.
Start a Pinterest board for her to pin her favorite costumes to. You can go through her pins together, using this as an opportunity to discuss hands-on what is appropriate and what is not. She will be less likely to protest your veto of a few of her choices if she has lots more options picked out to choose from. This is also a great way for her to keep track of all her ideas and for sharing them with her friends.
Discuss ahead of time what kind of footwear she is approved to wear. Most of the commercial adverts portray their costume models wearing insensible and age-inappropriate footwear such as high heeled pumps and knee-high leather boots. This is a big one, trust me! It will seem like the end of the world to her when she can't borrow your favorite pair of black heels to go trick-or-treating outside in six inches of slush or being told no to wearing them to school. I found a compromise with my daughter that she is happy with! There are lots of cute dressy boots for kids that go great with just about any costume, even the dresses, that can be worn both indoors and outdoors (assuming she is not trudging through a foot of snow).
When dealing with tweens, it's all about compromise and picking and choosing your battles wisely. I find my daughter is mainly attracted to the glitz, glamor and frilly accessories rather than the costumes themselves. Your preteen may be less likely to protest your "rules" if you allow her the freedom to add her own flair and personality to the costume. Consider allowing her to experiment with temporary hair colors, face paints and makeup, nail polish and fun accessories. You never know, she may just decide to be something sweet and simple like a friendly witch or vampire after all!
When my daughter was younger, it was easy to use the rainy and sometimes snowy weather to my advantage to avoid the skimpy costumes, but as she gets older, I have begun discussing the importance of choosing a costume that portrays a positive body image and explaining why the sexy school girl and sassy sailor costumes are not so cool for young girls.
Discuss your rules of what is acceptable and what's not BEFORE you hit the stores or start browsing online. And put your rules in writing if you have to! Tweens are notorious for twisting and turning your words around and they will argue with you until the cows come home.
These costume ideas are all handpicked by my tween daughter and approved by me. Some may need a few modifications to make them more tween-friendly or maybe I should say parent-friendly.
Princess Costumes For Girls Who Love The Glitz And Glamour Of Dressing As A Girly Girl
Every little girl dreams of being a princess and this Cinderella tutu costume dress is the stuff dreams are made of! You can have one of these gorgeous dresses handmade by Seraphina for your special girl. She ships internationally from the UK. The blue butterfly princess is perfect for a costume party, special occasion, wedding or a photo shoot. Seraphina makes each dress herself, made to order to your custom specifications with special attention paid to quality and detail.
Cinderella costumes are always very popular with tween girls. Make your daughter's dreams come true with a gorgeous, shimmery gown costume dress. Your daughter will be the belle of the ball! Or perhaps, your tween would prefer less glam and more cuteness instead with the Cinderella dress on the right.
Tween Cinderella Costume
Cinderella Movie Costume Dress
Do your tweens suffer from Frozen Fever? It is running rampant in our house! Anna and Elsa costumes will be another popular costume choice for young girls this year. Each of these costumes includes a dress and cape. Who is your daughter's favorite character? Anna or Elsa?
Anna Traveling Tween Costume
Elsa Tween Costume
Does Your Daughter Love Zombies? Here Is A Gruesomely Fun Collection Of Zombie Costumes For Tween Girls
My daughter is in love with this new collection of Once Upon A Zombie costumes featuring popular Disney princesses. The Cinderella zombie costume is her fave! These zombie costumes are perfect for school or parties that encourage a no blood or gore dress code.
The costumes all include a dress, choker, crown, and tights. The Once Upon A Zombie wigs are not included but can be purchased separately.
Who knew zombies could be so cute!
Once Upon a Zombie Cinderella Costume
Once Upon a Zombie Sleeping Beauty Costume
Once Upon a Zombie Snow White Girls Costume/ Zombie Snow White Teen Costume
Once Upon a Zombie Belle Girls Costume / Zombie Belle Teen Costume
Once Upon a Zombie Rapunzel Girls/ Teen Costume
InCharacter Costumes Tween Zombie Girl Costume, Purple, Large
Zombie Cheerleader Costume
Stitched Tights
Black Furry Boot Covers
Stitched Glovettes
Black Bows with Skulls
How About A Costume Of Your Tween's Favorite Movie Or TV Character?
The Minions have landed on planet Earth and they are everywhere you look. Tweens are crazy for these mischievous and hilarious one-celled, yellow organisms and they will love this cute Minion costume. Minion costumes are sure to be very popular this Halloween, with lots of little Minions running around your neighborhood on Halloween night.
Hang on to your bucket of candy tight because I heard they can be sneaky little fellas!
Girls who are fans of the Descendants will love these Disney Descendants Isle of the Lost costumes. The descendants are the offspring of evil fairytale villains that have been banished to the Isle of the Lost.
Girls can choose between dressing up as Mal, the daughter of Malificent or Evie, the daughter of the Evil Queen. The Mal Isle of the Lost costume includes jacket, top, pants, and one glovette. The Evie Isle of the Lost costume includes jacket, dress, and leggings. The wigs are not included but can be purchased separately.
Disney Descendants Mal Costume
Disney Descendants Evie Costume
Disney's The Descendants: Mal Wig
Disney's The Descendants: Evie Wig
A popular character that many tween girls can relate to is Violet from The Incredibles movie. She is a shy, socially awkward young girl who doesn't want to be different or stand out from her peers and prefers to go unnoticed until she learns to embrace the gifts that make her unique. The Incredibles Violet costume comes with a dress, leggings, a mask, and a pair of gloves. The costume does not include boots or wig.
Tween Incredibles Violet Costume
This year, girls all over will be dressing as one of the emotions of Riley, an 11-year-old tween girl who learns to work with all her emotions to live a more balanced life. Each of the Inside Out costumes includes a dress and a wig. Girls can choose to dress up as the emotions joy or disgust. These would be fun costumes for a pair of best friends.
Inside Out Disgust Classic Girls Costume
Inside Out Joy Deluxe Girls Costume
Group Costume Ideas For Tween Girls
These cute and colorful Crayola crayon costumes make a great group costume idea for a gang of best friends. One lucky person can dress up as the box of crayons and everyone else can dress as their favorite color of crayon. The glitz and glitter of these costumes are appealing to tween girls and the tutu skirt is absolutely adorable.
The Crayola crayon costumes each include a dress and hat and are available in a variety of colors including ruby red, sunburst orange,  emerald green, steel blue, blush pink and deep space black.
Crayola Crayon Box Dress Costume
Crayola Crayon Costume Dress
Is your tween girl a video game geek? These cute Super Mario Brothers costumes are perfect for girls who like to prove that girls can do anything just as good as boys.
Choose from four characters – Mario, Luigi, Yoshi, and Princess Peach. The Mario, Luigi, and Yoshi costumes include dress, hat, and gloves. The Mario and Luigi costumes include a mustache prop. The Yoshi costume includes an inflatable shell. The Princess Peach Costume includes a foam car only. Clothing or shoes are not included.
These costumes make a cute group costume idea for a gang of friends.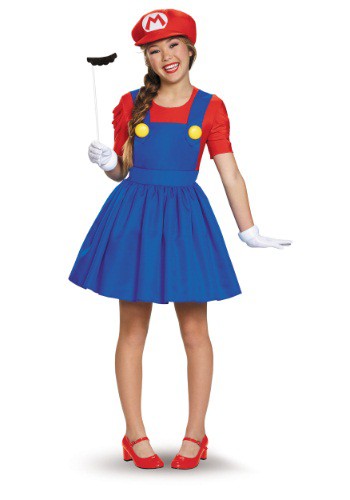 Mario Skirt Costume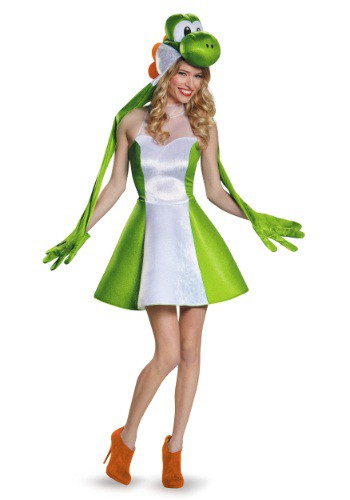 Yoshi Skirt Costume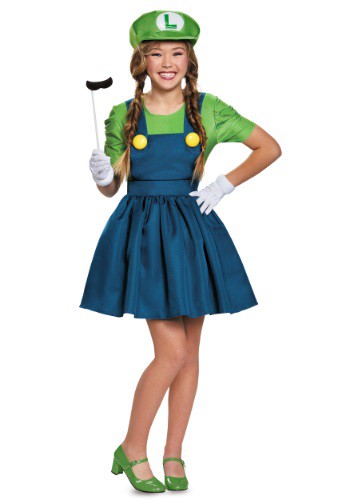 Luigi Skirt Costume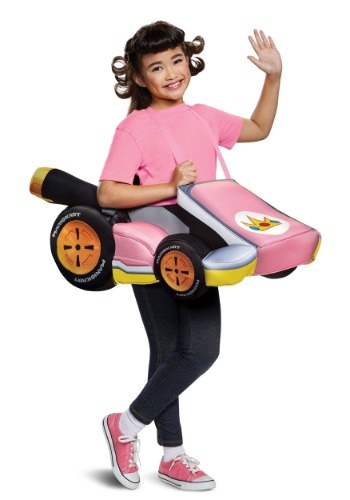 Princess Peach Costume

More Popular Halloween Costumes Tween Girls Love To Wear And They Are Parent Approved Too!
Tween's Warrior Huntress Costume
Teenage Mutant Ninja Turtles Leonardo Costume
Spider Girl Tween Costume
Monster Bride Costume
DC Super Villain Harley Quinn Girl's Costume
Ever After High Child Briar Beauty Costume
Ever After High Child Madeline Hatter Costume
Funky Punky Bones Costume
DC Super Villain Riddler Costume with Tutu Dress
DC Super Heroes Batgirl Costume
DC Super Villain Joker Costume
Ballerina Golden Butterfly Girls Costume
Forsaken Soul Ghostly Spirit Costume
Marvel Classic American Dream Costume
Tribal Spirit Tween Girls Costume
Greek Goddess Child Costume
Tween Mad Hatter Costume
Kool Kat Tween Costume
Tween Wear Wolf Costume
Victorian Vampiress Kids Costume
Tween Red Riding Hood Costume
Tips For Making Your Daughter's Costume More Tween Friendly And Suitable For The Weather Or Occasion
There are a lot of cute costumes where the skirt is just too short for wearing alone or with sheer tights! If she chooses a costume with a short skirt, you could nix the bare legs and sheer tights by replacing them with leggings or pants, or at the very least, have her wear a pair of shorts underneath.
If you prefer for your daughter to keep her shoulders and upper arms covered, you could have her wear a t-shirt or long sleeved shirt underneath her costume.
If your daughter is planning on going trick-or-treating, choose a costume appropriate for the weather. For chilly weather, choose a costume that can be worn over their clothing or jacket. For warmer weather, choose a lightweight costume that she won't be sweltering in. I have a rule with my daughter that she must wear a shirt and pants underneath her costume at school and a jacket is always a must for trick-or-treating. Depending on the weather, it is a choice between running shoes or boots.
The cheap material of Halloween costumes can become hot and itchy, especially when indoors during school or at a Halloween party. By having your daughter wear street clothes underneath her costume, she can pull the costume off when it becomes too uncomfortable without having to pack a change of clothes around with her. Trust me, she will thank you for this, even if she puts up a fuss about it at first!
If you prefer that your daughter wear street clothes under her costume, buy the costume a size larger.
More Costume Ideas You May Like
DID YOU LIKE THIS POST? PIN IT FOR LATER!