Gift Ideas For Teen Girls: 2018 Gift Guide
Are you searching for gift ideas for teen girls 13 to 18 years old? I put together a selection of gift ideas that my own teenage daughter either owns and loves or would really like to own. Shopping for teenage girls can be tough and I hope this list of suggestions helps you find the perfect gift she will love.
You will find a mixture of fun and cool gift ideas for teenage girls that are on every girl's wishlist, suitable for any occasion. Whether you are looking for some birthday, graduation, or Christmas gift ideas for teen girls, there are lots of ideas to draw inspiration from.
Gift Cards And Money
 Amazon Gift Cards

The most requested gifts for teen girls is money or gift cards. What teenage girl doesn't love a wad of cash or gift cards to shop with?
Amazon gift cards are the number one choice for teens. They can choose from hundreds of thousands of products to find the gift that is perfect for them. Amazon gift cards can be purchased online and sent via email which is great for long-distance gifting.
A greeting card is the most traditional way to gift money. Just pick out a special card and slip some money into the envelope. My teens are at the age where they prefer me to give them money in lieu of gifts, so last Christmas I made it a little more fun. I wrapped up boxes of balloons with money inserted inside. They had to pop the balloons to get the cash.
More Gift Cards That Are Popular With Teen Girls
---
Extendable Selfie Stick
 Extendable Selfie Stick

We all know how much teen girls love to take selfies! They will be thrilled to receive an extendable selfie stick for taking perfect self-photographs and group photos.
It is super simple to use. Turn it on, connect it to a smartphone via Bluetooth adjust the angle and snap the photo. When it is folded up, it only measures just over 7 inches in length, making it the perfect size for carrying in a purse or jacket pocket.
The selfie stick extends up to 31.5 inches, so your teen no longer has to try and stretch her arm to impossible lengths to capture a group selfie.
---
Mobile Phone Holder
Does your teen read or watch movies on her phone or iPod? Then she will love one of these mobile phone holders that allows her to keep her hands free.
Just place the phone in the bracket and clip to the edge of a desk, table, nightstand or headboard. The flexible gooseneck arm can be adjusted in any direction to get the perfect angle.
My teen loves watching Netflix movies and reading ebooks on her phone laying in bed. Using a mobile phone holder, she doesn't get cramped hands from holding her phone and she doesn't have to worry if she falls asleep.
It is also great for video messaging. She can sit and talk with her friends while they work on homework or school projects together.
---
Lipstick Shaped Portable Charger
 Lipstick-Sized Portable Charger

With one of these portable phone chargers, your teen will never be able to use the excuse "my phone died and I didn't get your message" again.
This compact USB phone charger has enough juice to deliver one full charge to most smartphones. It requires no batteries – just plug it into a USB wall plug and charge for 4 hours and toss it in your bag before heading out.
It is the size of a lipstick tube which fits easily into pants pockets or a small purse. Parents can have peace of mind knowing their daughter doesn't have to worry about her phone running out of battery when she is away from the house.
---
Fujifilm Instax Mini 8 Instant Film Camera
 Fujifilm Instax Mini 8 Instant Film Camera

High school is a flurry of fun activities, dances, sports, class trips and parties. Teens will have a blast creating and sharing memories with this Fujifilm Instax Mini 8 Instant Film Camera.
Girls can take a picture and instantly print it out. Just load with film, focus, snap and print. The pictures measure 3.5″ x 2.3″, about the size of a credit card which is the perfect size for journaling, sharing with friends or hanging in a locker. The camera uses Fujifilm Instax Mini Instant Film to develop the pictures. Film not included.
Teen girls love taking selfies and photos of their friends, making this instant camera an excellent gift choice.
---
JAM Plus Portable Speaker
 JAM Plus Portable Speaker
Girls can rock out to their tunes everywhere they go with a JAM Plus Portable Speaker. Kids can listen to music wirelessly from their smartphone or tablet using Bluetooth up to 30 feet from the speaker. Can be paired with a second speaker for true stereo sound.
It also includes a cord for a wired connection for non-wireless devices too. The design is super sleek and modern and comes in a variety of colors.
The JAM Plus speaker offers high-quality, high volume sound for 4 hours of wireless play and 12 hours of wired play between charges. The speaker includes a rechargeable lithium-ion battery with a USB connection for charging off a computer or USB wall charger.
It even has an integrated speakerphone that seamlessly transitions from music to conversation.
---
Fitbit Flex Wireless Activity + Sleep Wristband
 Fitbit Flex Wireless Activity + Sleep Wristband

Give the gift of health and fitness! Teaching our kid's healthy habits to carry with them for the rest of lives is an important part of parenting. With a Fitbit Flex Wireless Activity + Sleep Wristband, teens can track their daily physical activity and sleep activity and set personal fitness goals.
Girls can track steps, distance traveled, calories burned, active minutes and monitor how long and how well they sleep. It even has a silent alarm that wakes them up in the morning.
The Fitbit connects wirelessly with an app and includes tools for setting goals and tracking daily progress. They can even connect with their friends and challenge each other to be more active. The wristbands are water resistant and stay charged for 5 days. Great gift for motivating teenagers to get up and move and to better understand their health and fitness.
---
Polaroid Cube+ Lifestyle Action Camera
Polaroid Cube+ LIVE STREAMING 1440p Mini Lifestyle Action Camera with Wi-Fi & Image Stabilization
Is your teen girl active in sports or spend a lot of time outdoors? This sturdy, Polaroid Cube+ Lifestyle Action Camera is perfect for capturing life's adventurous moments as they happen.
This mini lifestyle action camera films the action as you experience the moment!
Weatherproof, shockproof, mountable and built to handle everything you can imagine, this lifestyle camera is the go-to choice for capturing pure fun under any conditions on land or water.
The cube has a powerful magnet on the bottom for attaching to any metal surface. Attach it to your helmet, bicycle handlebars, or wear it around your neck or waist, and never miss a second of the action.
Includes built-in Wi-Fi, apps for editing, printing and live streaming, full HD recording, image stabilization, and photography in one small device.
---
Lighted Vanity Mirror
Lighted Makeup Mirror
Teen girls love experimenting with makeup! A Lighted Cosmetic Mirror makes great gifts for teenage girls who enjoy wearing makeup or wears contact lenses or braces.
The vanity mirror fits perfectly in any size space. The affordable mirror is a great value for the price and boasts a bunch of cool features.
The tri-fold mirror swivels 180° for a comfortable viewing angle, includes a 2X and 3X magnifying mirror, one removable round 10X magnifying mirror, 22 adjustable LED lights, and touch screen control.
This handy, multi-purpose mirror is a gift that is sure to become an important part of a teen girl's daily routine.
---
Unstable Unicorns Game
A popular new party game among teens and young adults is the hilarious Unstable Unicorns Strategic Card Game. Be the first the build your Unicorn Army consisting of Baby Unicorns, Magical Unicorns, and Basic Unicorns.
Build your army, destroy your friends' army. Seek revenge or protect your stable with magic. The unicorns are your only friends now! Be the first to build your army and become The Righteous Ruler of All Things Magical.
This fun game is recommended for individuals 14 years and over and is best played with 2 to 8 players. It can be played with a larger crowd if played with the expansion packs. Includes 135 playing cards and rules.
---
Finding Carter: Season 1
 Finding Carter: Season 1

My teenage daughter is obsessed with Finding Carter, an MTV teen drama series about a feisty 16-year-old girl who discovers she was kidnapped as a toddler and her whole life as she knew it is pulled out from under her.
Upon learning her mom is actually her kidnapper, Carter is reunited with her biological parents, twin sister and younger brother, but not without its own set of difficulties and feelings of resentment.
The show follows Carter as she adjusts to her new family and friends while dealing with her feelings of loyalty and betrayal towards her kidnapper mom. It also includes the usual teen drama and boy troubles too. This is one of those shows both teenagers and parents can enjoy watching together.
It is currently in its second season and can be watched on television or streamed on Amazon Video. Season 1 is available on DVD. Include a framed copy of these free printable Finding Carter quotes for teens to hang on their bedroom wall.
---
A super fun gift idea for a teen girl is a brainteaser puzzle! Kids will have so much fun trying to solve the puzzle, they won't even realize they are honing their deductive reasoning and problem-solving skills.
The Gordian Knot Brainteaser is a challenging puzzle that requires 69 different moves to dismantle the puzzle. Perfect for girls who love to challenge their brains and critical thinking skills.
Also includes a 40-page step-by-step solution book and easy-to-follow reassembly instructions to help you out if needed. Recommended for kids 14+.
---
Mini Succulent Plant & Flower Pot
Cute Hippo Mini Succulent Flower Pot
A cute mini flower pot and succulent or cactus plant make adorable gift ideas for teens girls. Succulents and cacti don't need a lot of maintenance. All they need is a sunny window and a watering 1-2 times a week. They are pretty forgiving if they are forgotten for a couple days!
If your teen is not a plant person, they are perfect for holding small odds n' ends and candy too.
These mini flower pots are charming and add lots of character to a teen's bedroom. They come in dozens of different animals and mini animal houses including a hippo, cat, rabbit, hedgehog, black bear, polar bear, frog, and more. There is one for every personality type.
---
Healthy Cookbook For Teens
Eat Fresh Food: Awesome Recipes for Teen Chefs
One of the best gift ideas for teen girls is a cookbook. Teaching teens essential life skills while they are still living at home is key to raising a successful adult.
Eat Fresh Food: Awesome Recipes For Teen Chefs is an excellent cookbook for teaching kids how to prepare and cook healthy meals. The book includes recipes that are healthy, easy to prepare, and kid-friendly.
Kids can learn how to make delicious recipes such as mac n' cheese, fish tacos, chickpea burgers with mango salsa, eggless caesar salad, whole wheat bread, carrot jam, and so much more.
The recipes emphasize the use of fresh ingredients and the cookbook includes general nutrition and safety information as well as advice about choosing organic ingredients.
---
Skateboard Rack & Shelf Organizer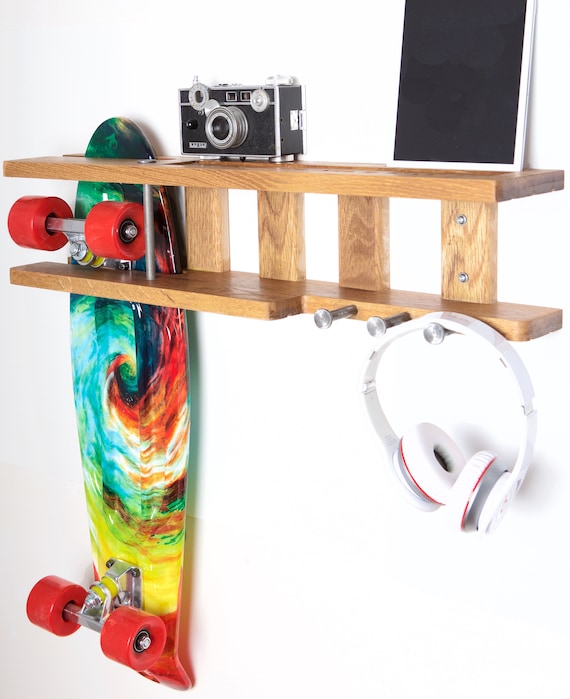 Skateboard Rack Holder & Organizer

If you are tired of your teens' skateboards propped up in the corner or laying on the ground just waiting to be tripped over, this Skateboard Rack & Shelf Organizer is the perfect solution, making a great addition to a bedroom or entryway.
The rack includes a slide-in slot for the skateboard or longboard, plus two shelves and 3 iron nails for storing extras like a helmet, wallet, keys, or whatnot.
The skateboard rack is built with 100% repurposed hardwood flooring in your choice of 4 different materials including birch, hickory, oak, and maple.
---
Skateboard Wall Art Decoration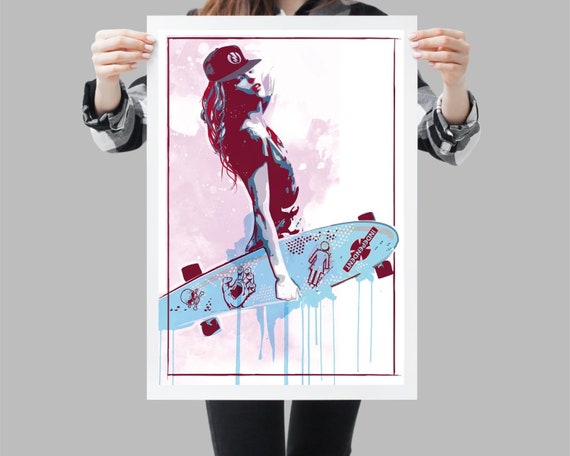 Skateboard Girl Poster Wall Art

Skateboarding and longboarding have become a popular sport among teen girls, and more and more girls are joining the trend. Support your teen's love of the sport with a stylish wall art decoration.
This Skateboard Girl Poster wall art decoration would look great hanging on the wall of a skater girl. The Instagram, vintage filter style of the design is trendy and appealing to teens.
The modern skater girl poster is available in over a dozen sizes to suit any size of available wall space. The poster is printed on glossy paper with a matte finish, and are shipped in a durable cardboard tube.
---
Girls just want to dance, dance, dance!! The newest installment of the Just Dance video game series is soon to be released this fall and is guaranteed to be one of the most requested top Christmas gifts for teen girls this year!
Just Dance 2019 promises to be the hottest party of the year with 40 hot hits to dance to including Bang Bang Bang by Bigbang, Work Work by Britney Spears, I Feel It Coming by The Weekend Ft. Daft Punk, Finesse (Remix) by Bruno Mars Ft. Cardi B, and many more.
Just Dance 2019 is available for Switch, PS4, Wii, Wii U, Xbox 360, and Xbox One.
---
One of the best gifts for teen girls in senior grades or for those who are getting ready to graduate is the personal development book, The 7 Habits Of Highly Effective Teens and its accompaniment workbook.
I can't recommend this book enough! I bought my kids and all their close friends' copies of this book and my daughter's school is incorporating this book into their personal planning curriculum. Every high school student should have the opportunity to read this book, including their caregivers.
Teens learn personal responsibility, boundaries, strategies to improve self-image, how to build/maintain friendships and relationships, resist peer pressure, plan and achieve their goals, how to respond to cyberbullying, and appropriate social media behaviors.
---
Ceramic Sprinkle Donut Mug
Ceramic Donut Mug
Looking for a silly and fun gift idea for a teen girl? This Ceramic Sprinkle Donut Mug is perfect for girls who love donuts and sweets!
The mug is designed in the shape of a donut with a bite taken out of the top and a hole in the center. The front of the mug features pink or chocolate icing, covered with sprinkles. The back of the mug features the words "Mmm… Donuts" on the bottom of the donut.
The large mug holds 14 ounces of liquid and is both microwaveable and dishwasher safe. The handle stays cool, perfect for enjoying a cup of coffee or hot cocoa.
---
Big Bang Theory Trivia Game
Is your teen a Big Bang Theory fan? Girls can test their knowledge of the television series with The Big Bang Theory Fact or Fiction Trivia Game.
The game is recommended for kids 12 to 16 years of age who are very familiar with the TV show. The object of the game is to collect 5 character pieces by correctly answering fact or fiction questions from seasons 1 through 4.
The game includes 400 questions about a fact from the show or a fictional character mentioned in the show. To make it even more fun, you can challenge your opponents in a game of Rock, Paper, Scissors, Lizard and Spock to try and take one of their character cards.
Overall, it is a great game for girls who never miss an episode of the Big Bang Theory.
---
If you are searching for gift ideas for teen girls who enjoy both science and building LEGO, this Nasa Apollo Saturn V LEGO Building Set is a great choice.
This sci-fi space LEGO building set includes over 1900 pieces for building the Apollo Saturn V spacecraft, a Lunar Lander, and a Lunar Orbiter.
Kids can learn all about the manned Apollo moon missions from the included information booklet. This is a great gift for kids, siblings and parents to spend quality time doing together.
The Apollo spacecraft measures over 39 inches tall (one meter) and 6 inches in diameter. Includes 3 stands for displaying horizontally. Recommended for kids 14+.
Pair it with the Women of NASA Building Kit for an out of this world, geeky gift for a teen girl.
---
Personalized Teen Girl Bedroom Wall Art
 Personalized Teen Girl Bedroom Wall Art

Personalized decor items are great gift ideas for teen girls. Who doesn't love seeing their name in print? This sweet and sassy wall art print, personalized with your teen's name, is perfect for decorating a teenage girl's bedroom.
It is very easy to order. When submitting your payment details, include the name you would like on the print in the notes to seller box. Choose any color you like for the accents in the writing. You will receive a proof via email for your approval before it is shipped to you, within 48-72 hours.
Frame the 8″ x 10″ print for a unique, one-of-a-kind gift for your special teen.
---
Thank you for visiting and I hope you enjoyed these fun and cool gift ideas for teen girls. What gift ideas for teen girls would you suggest?
Like Us On Facebook
[efb_feed fanpage_url="raisingtweenandteengirls" layout="full" image_size="normal" type="page" post_by="me" show_logo="1″ show_image="1″ show_like_box="1″ links_new_tab="1″ post_number="1″ post_limit="10″ words_limit="" cache_unit="5″ cache_duration="days" ]
More Gift Ideas You May Like!