The Most AMAZING And BEST Outdoor Playhouses For Kids That Are Like A Second Home Away From Home Right In Your Backyard
Looking for inspiration and ideas for outdoor playhouses for kids? We have you covered! These outdoor playhouses for kids are absolutely amazing and are like a mini home away from home!
These lavish outdoor playhouses definitely don't suit everyone's budget, but if you happen to live a comfortable lifestyle and have $5000 to $30,000 disposable income to spend, these outdoor playhouses for kids are worth every penny.
AMAZING Outdoor Playhouses For Kids That Will Rock Their World
You can find the links to buy the following outdoor playhouses posted below each picture. The playhouses are all handmade from artisans and small business owners in the USA. These amazing kids outdoor playhouses are unlike anything you will find in a retail store!
The Big Playhouse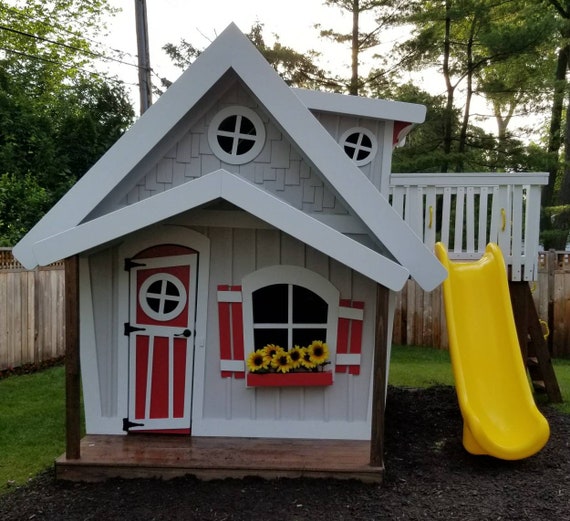 Click Here To BUY This Big Outdoor Wooden Playhouse
This cute and whimsical outdoor playhouse kids will be delighted to play in all day long features a covered porch, loft and dormer area with rails and ladder, a raised deck, rock wall, and a slide. The crooked round windows, shutters, box planters, dormer, and dutch door makes it feel like it belongs in a storybook.
Comes with stained floors and your choice of exterior and interior paint colors. The outdoor playhouse also includes fun accessories such as a mailbox, doorbell, table, built in cabinet, name boards, chalkboard with chalk, and magnetic board with letters.
Buy This Wooden Outdoor Playhouse
---
Pirate Ship Treehouse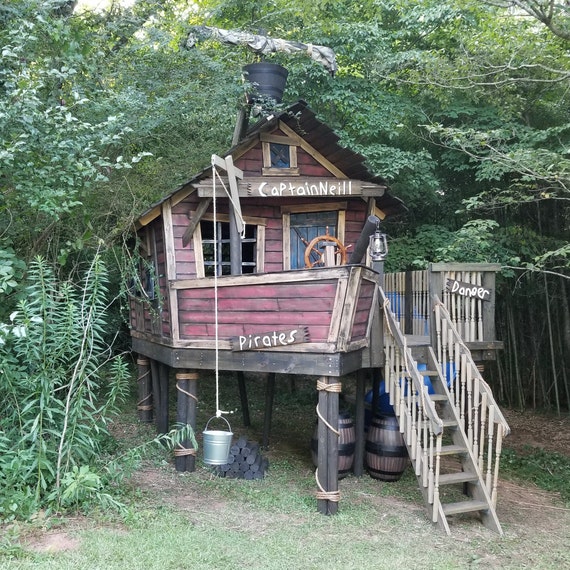 Click Here To BUY This Kids Pirate Ship Playhouse
Aye Aye, Captain! This rustic, outdoor wooden pirate ship playhouse has washed ashore and is the perfect hangout for your lil' crew of pirates and sailors. This elevated playhouse sits 5 feet above the ground and includes an outdoor deck and enclosed cabin area.
All the little pirate details and accessories really make this playhouse feel like an abandoned pirate ship. The ornate, distressed railing posts, slatted wooden roof, crooked windows, and deck in the shape of the bow of a boat bring this playhouse to life.
Accessories include a crows nest and mast, ship's wheel, lantern, barrels, bucket pulley, porthole windows that open, exterior signs, and a turbo slide.
This outdoor pirate ship playhouse has to be my favorite! Is it weird that I want to move in?
Buy This Pirate Ship Playhouse
---
Dollhouse Playhouse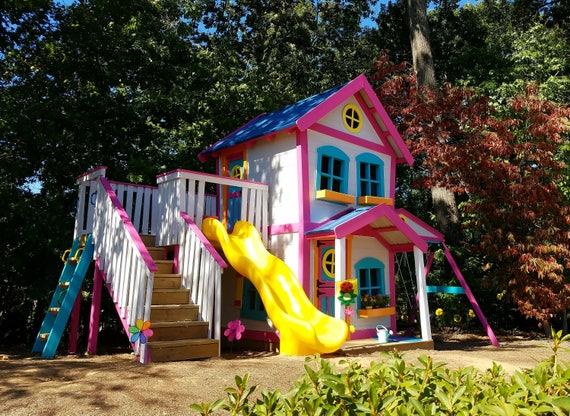 Click Here To BUY This Dollhouse Playhouse Playset
Do you have a little girl who dreams of living in her own life-sized dollhouse? Now she can with this adorable, outdoor dollhouse playhouse and playset!
The crooked window panes with flower planters, colorful paint trim, gabled roof, covered porch, and dutch door in this multi-level, outdoor playhouse for girls is adorably charming and brings the character of a child's miniature dollhouse to life.
This dollhouse playhouse has lots of sweet features and accessories including an interior loft with rails that can be accessed inside with a ladder or from the door on the upper slide deck. The downstairs area can be entered through the front door or via a "secret passage."
More fun accessories included are name boards, a mailbox, a doorbell, a chalkboard with chalk, a magnetic board with letters, a built-in cabinet, and window shutters.
The playhouse also features an activity playset including a premium slide, a climbing rock wall, and gable roof swing beam with 3 swings.
These life-sized dollhouses are outdoor playhouses girls will do cartwheels and flips for!
---
Hobbit Hole House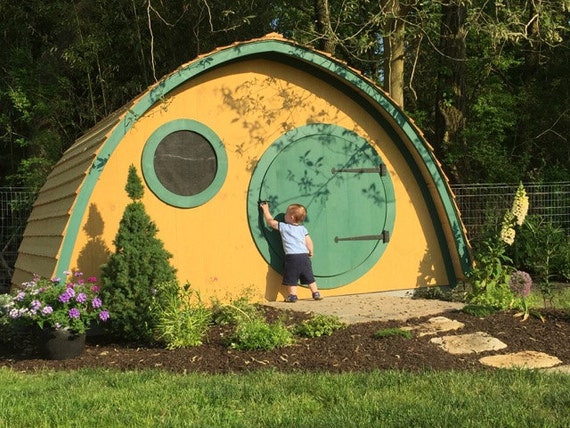 Click Here To BUY This Hobbit Hole House
Sci-fi geek parents rejoice! Your lil' geeks can have their very own Hobbit hole house right in your backyard. These make great hideaways for adults too!
Your kids may be too young to watch or understand the Lord of The Rings series, but that doesn't mean they can't appreciate the awesomeness of magical Hobbit hole houses!
This Hobbit playhouse kit ships unpainted and unassembled. It comes with complete assembly instructions and requires a few basic tools to assemble. The exterior roofing is not included but is available as an upgrade or you buy your own roofing materials to finish it off for outdoor use.
Building a hobbit home makes a great weekend project for the whole family!
---
Farmhouse Playhouse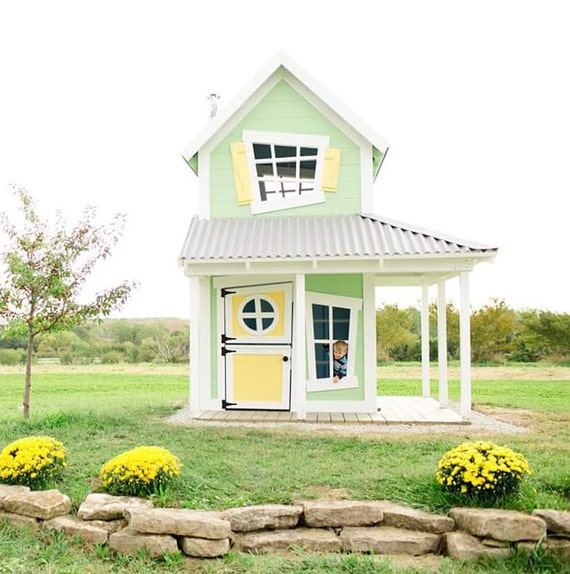 Click Here To BUY This Farmhouse Playhouse
A wonderful addition to a farm or country house is this kid-sized, outdoor farmhouse playhouse! This cute farmhouse playhouse features an interior loft with rails and a ladder, dutch doors, doorbell, and wrap-around covered porch.
Choose from a whimsical or straight design and pick your own paint colors. Upgrade and add a gable swing, slide, and rock wall for even more fun.
Can't you just imagine the fun your kids will have sipping iced tea on the front porch and playing in their very own mini farmhouse!
---
Barn Playhouse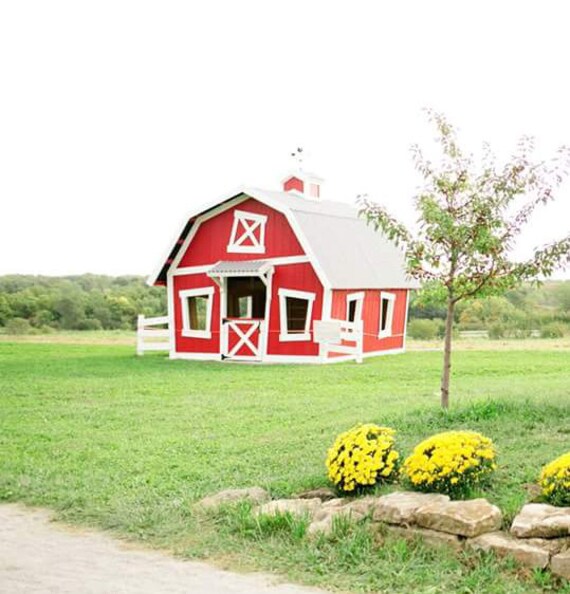 Click Here To BUY This Kids Barn Playhouse
The perfect compliment to a farmyard is this outdoor barn playhouse for kids. It is super adorable and kids will love making the barn their own hangout space.
The barn playhouse includes windows all around for lots of natural light and includes 2 doors for easy access. The open floor plan lends to unlimited possibilities for decorating and furnishing the barn. The option to add an interior loft is available.
The color red of a traditional barn not your style? Choose your own paint colors for a more modern barn! This playhouse barn would make a wonderful companion to the farmhouse playhouse above.
---
Castle Playhouse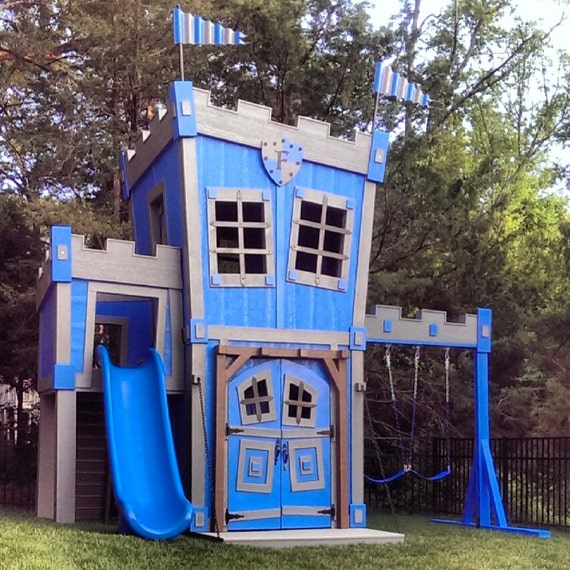 Click Here To BUY This Kids Outdoor Castle Playhouse
This outdoor wooden castle playhouse allows your child's imagination take them on an adventure to the medieval times. Can't you just imagine this castle playhouse adorned with knights in shining armor and their loyal chivalry?
This 2-story outdoor playhouse for boys includes two floors with a ladder in between and an attached activity playset.
Painted to look like wood and steel, along with all the little details, this castle playhouse will make your kids feel like a piece of history just landed in your backyard. The playhouse includes more fun accessories including chains on a pretend drawbridge, a secret passage, personalized name boards, flags, a round table, a built-in cabinet, a chalkboard with chalk, and a magnetic board with letters. The windows even have real iron bars!
The attached playset includes a premium slide and platform, a climbing rock wall, and swing beam with two swings.
These castle playhouses can be customized for girls too! Choose your paint colors and decide if you would like the wonky construction or if you would like it straight in a more traditional style.
---
Clubhouse Playhouse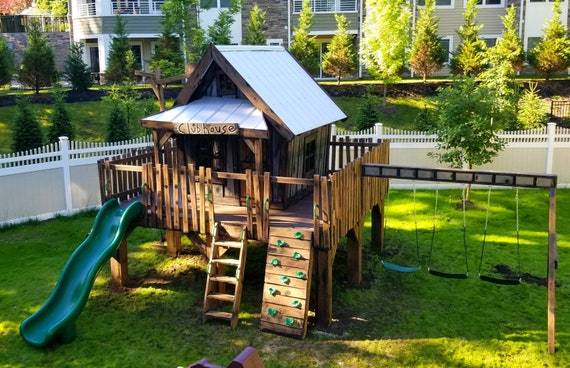 Click Here To BUY This Kids Clubhouse Playhouse
Your kids will be thrilled to hang out in this kids backyard clubhouse. The only thing missing is the gang of Little Rascals and Petie, the dog! This outdoor clubhouse for kids is a super fun space for kids to play and have secret meetings.
Features an interior loft with rails and ladder, fake dormer, wrap around covered porch, latching front door, plexiglass window sliders, built in cabinet, and secret passage. The clubhouse also includes fun accessories including a mailbox, bucket pulley, table, doorbell, chalkboard, and magnetic board. 
The elevated clubhouse also features an attached playset including a swing beam with 3 swings, climbing rock wall, and slide for tons of outdoor fun.
---
Craftsman Playhouse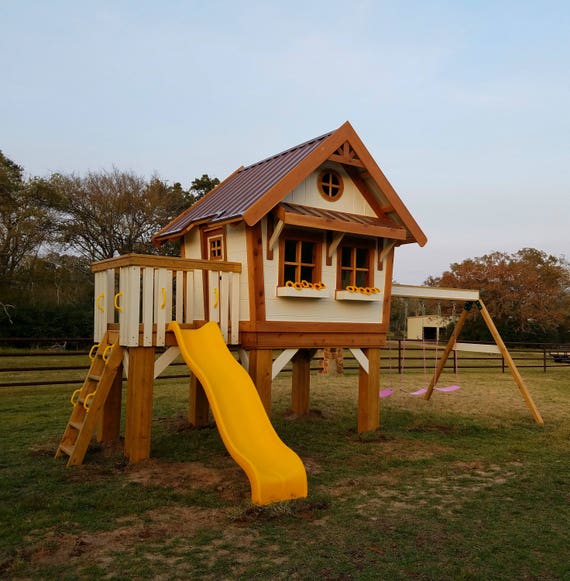 Click Here To BUY This Craftsman Playhouse
This adorable playhouse is styled in a traditional craftsman style and would make a cute addition to any property or yard. The single room craftsman playhouse sits on an elevated platform and includes and attached playset including a slide, climbing rock wall, and swing beam with 3 swings.
---
Not ready to take out a mini mortgage to finance your childrens outdoor playhouse? Build your own outdoor playhouse instead!
DIY Outdoor Playhouse Plans
Looking for DIY plans for building playhouse kids will love? If you are blessed with the good fortune (or married to someone) of being skilled with your hands and tools, building your own playhouse is definitely more budget-friendly. The following kids playhouse plans are a great starting point for building your kids the outdoor playhouse of their dreams.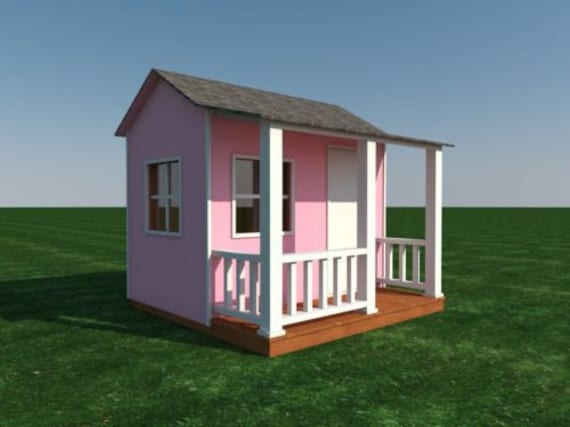 Kids Outdoor Playhouse PlansBUY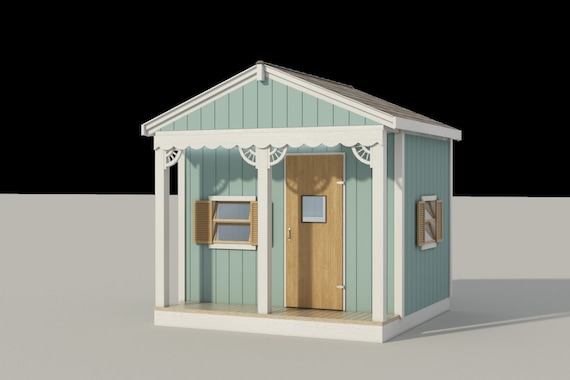 Cottage Kids Playhouse PlansBUY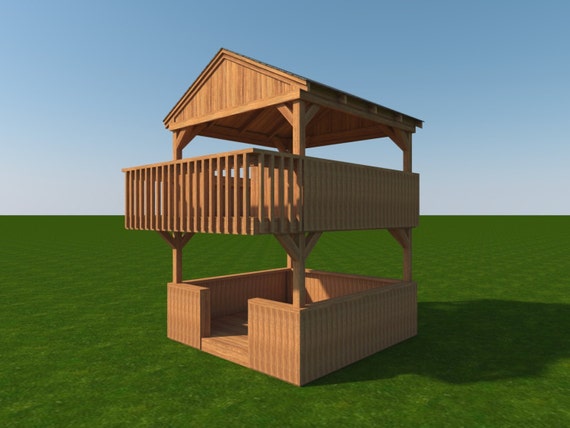 Playhouse Fort PlansBUY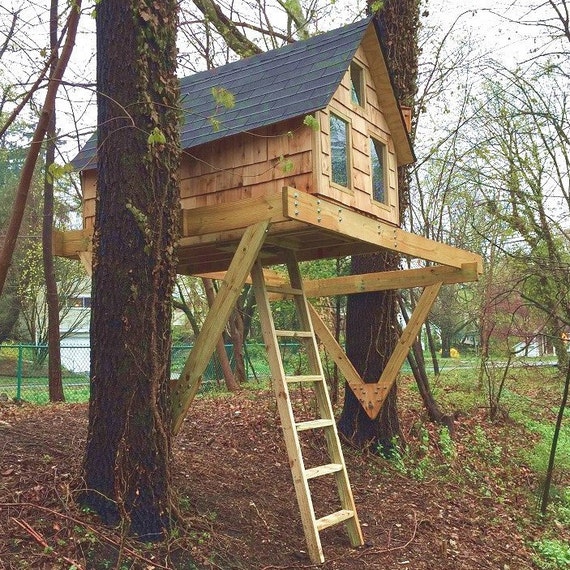 Backyard Treehouse Plans For KidsBUY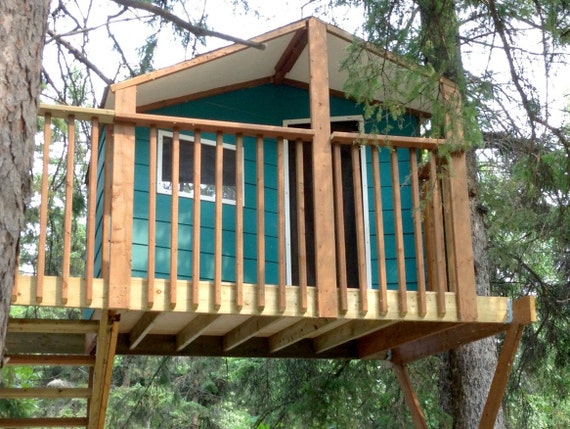 DIY Treehouse PlansBUY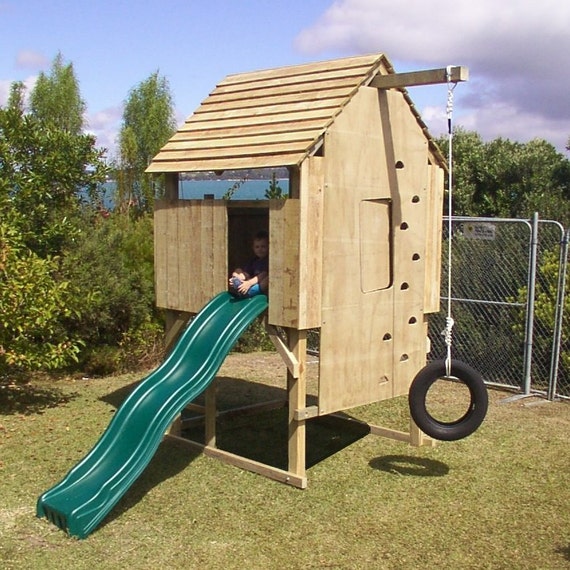 DIY Playhouse PlansBUY
Thanks for visiting and I hope you enjoyed looking at all these amazing outdoor playhouses for kids!
Like Us On Facebook
[efb_feed fanpage_url="raisingtweenandteengirls" layout="full" image_size="normal" type="page" post_by="me" show_logo="1″ show_image="1″ show_like_box="1″ links_new_tab="1″ post_number="1″ post_limit="10″ words_limit="" cache_unit="5″ cache_duration="days" ]